Colorful Parasols as wedding accessories have been a trend for many years now. The parasol is a type of umbrella, which by function is meant to protect a person from the scorching sun. That's one reason why it's made only of light materials such as handmade paper, waxed cotton, Thai silk, or lace. Although the parasol has Asian roots, it became part of every delicate ladies' fashion ensemble in western societies back in the 1920s. These women used parasols as sunshades to protect their skin from the beating of the sun.
Today, though, parasols are making their way back into familiar territory not only as fun and as functional protectors from the sun but also as wedding accessories. Since parasols come in all sizes and colours, these can be easily incorporated into the wedding theme to match the colour of the bridal gown or the motif of the wedding itself.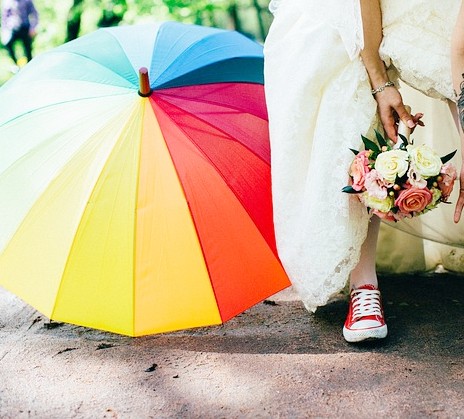 Of course, parasols are invaluable when weddings are held outside, like in a garden or on the beach. Nevertheless, unlike umbrellas, parasols cannot be used as protection from torrential rains. Hence, if you plan to use it on your wedding day, make sure the weather forecast is favorable.
Parasols are so popular, especially at weddings, because of the air of romance and femininity that these exude. Aside from the protection these offer, parasols serve as lovely accessories for the bride and her entourage. However, the most typical use of parasols during weddings is as props during the traditional photo ops. Parasols simply look great in photos and most photographers are enamored when a parasol frames the face of the bride and serves as a filter for light in the shots.
Here are some more ideas on how you can use parasols at your wedding:
As alternatives to conventional bouquets
Rather than have your bridesmaids and maid of honor carry bouquets, it would be a better idea to have each of them carry a coloured parasol. Just make sure the colours of the parasols would play up your wedding palette. The last thing you want is to make everything look uncoordinated.
As escort cards
You could make mini paper parasols or buy in packs and use these as cute escort cards, or parasols for that matter. All you need to do is add tags with the names of your guests, as well as the number of their assigned tables. This way, you avoid having wandering bodies in the reception; everyone will know where to sit, making the reception more organized.
As wedding mementos and favors
Some brides go in over their heads thinking of the perfect wedding keepsake to give to the guests. If the wedding is to be held outdoors, why don't you give personalized parasols to your guests before the ceremony? They can use the parasols as sunshade, and at the same time, they can bring it home with them as tokens from your wedding.
As flower girl accessory
Little girls can get whiny if you make them carry a basket of flowers. However, if you show them a cute junior-sized parasol in a lovely colour and adorned by tiny flower accents, that might just be the oomph they need to walk down the aisle before you.
As ceiling décor
We mentioned earlier that parasols come in different sizes and colours. These make parasols tailor-fit for use as hanging decorations. You can hang these from the ceiling upside down. The lovely colours would prove to be eye-catching, indeed!
As a backdrop
You can use parasols not only as a photo op prop or backdrop but also as a backdrop for your dessert table. The appealing colours of the parasols would make those yummy desserts look even more enticing.
As aisle accents
Instead of using a bunch of flowers as accent pieces for each row of chairs, use open parasols in colors coordinating with the sashes on the chairs and the aisle runner.
Other Uses for Parasols As Wedding Accessories
These are just some of the things you could do with a parasol if you plan to use it as a wedding accessory. Have fun mixing and matching these for a colourful wedding!